We are always on the look out for a great Math curriculum. Recently my daughter started struggling with our current curriculum. It was just a little too much too soon for her. I was very excited to find another computer based math program from A+ TutorSoft, Inc.  I chose the 1st grade A+ Interactive MATH CD Software for our review. 
One of the first things that jumped out at me about this program is not needing to be online to do the lessons. I love that you can install it on the computer, and then your child has access anytime to do their lessons. My daughter was able to easily log in on her own and get started.
With both versions of this curriculum you get interactive lesson plans, printable worksheets, lesson plans, and a solution guide. The multi-media lessons that your child will receive give them the advantage of learning through 3 avenues: Audio, Visuals and Text-based instruction. This adds a great element that really helps the lessons to stick with your child.
The premium edition of this curriculum has so many great features. Another one that we really liked was the weekly progress report. I like being able to see a weekly wrap up for my daughter to keep up with her progress. Plus my little one gets a weekly accomplishment report so that she can see how well she is doing with her lessons. My husband really liked the fact that the parents have parental controls for the software, so that you can hide or unhide the answer keys.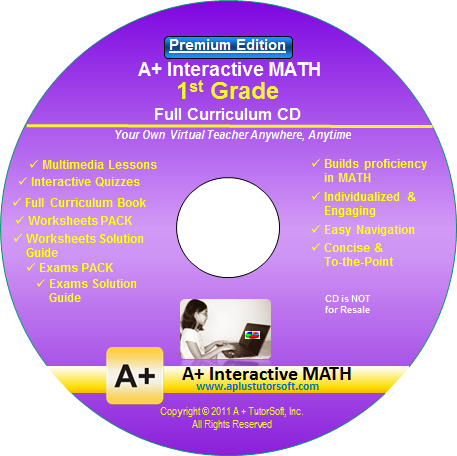 We will be sticking with this curriculum for the rest of the year. We have already worked through several learning gaps that my daughter had, and she is moving forward better than expected.
Of course, with each homeschool family cost is always a factor when choosing curriculum. A+ TutorSoft is a great and affordable option for your homeschool.  The CDs are $99.99 per grade for the standard edition and only $124.99 for the premium edition.  With the premium edition CD you get the added benefit of tracking the individual progress of up to five students in one grade.
Want to hear something really exciting?  A+ TutorSoft, Inc. is offering our readers 50% off of the purchase of A+ Interactive MATH. Just use code 'SPOFFER50′ during checkout. This offer is good for the entire month of March! 

*Disclaimer: I received a free copy of this product through the Schoolhouse Review Crew in exchange for my honest review. I was not required to write a positive review nor was I compensated in any other way. All opinions I have expressed are my own or those of my child(ren). I am disclosing this in accordance with the FTC Regulations.
Share and Enjoy